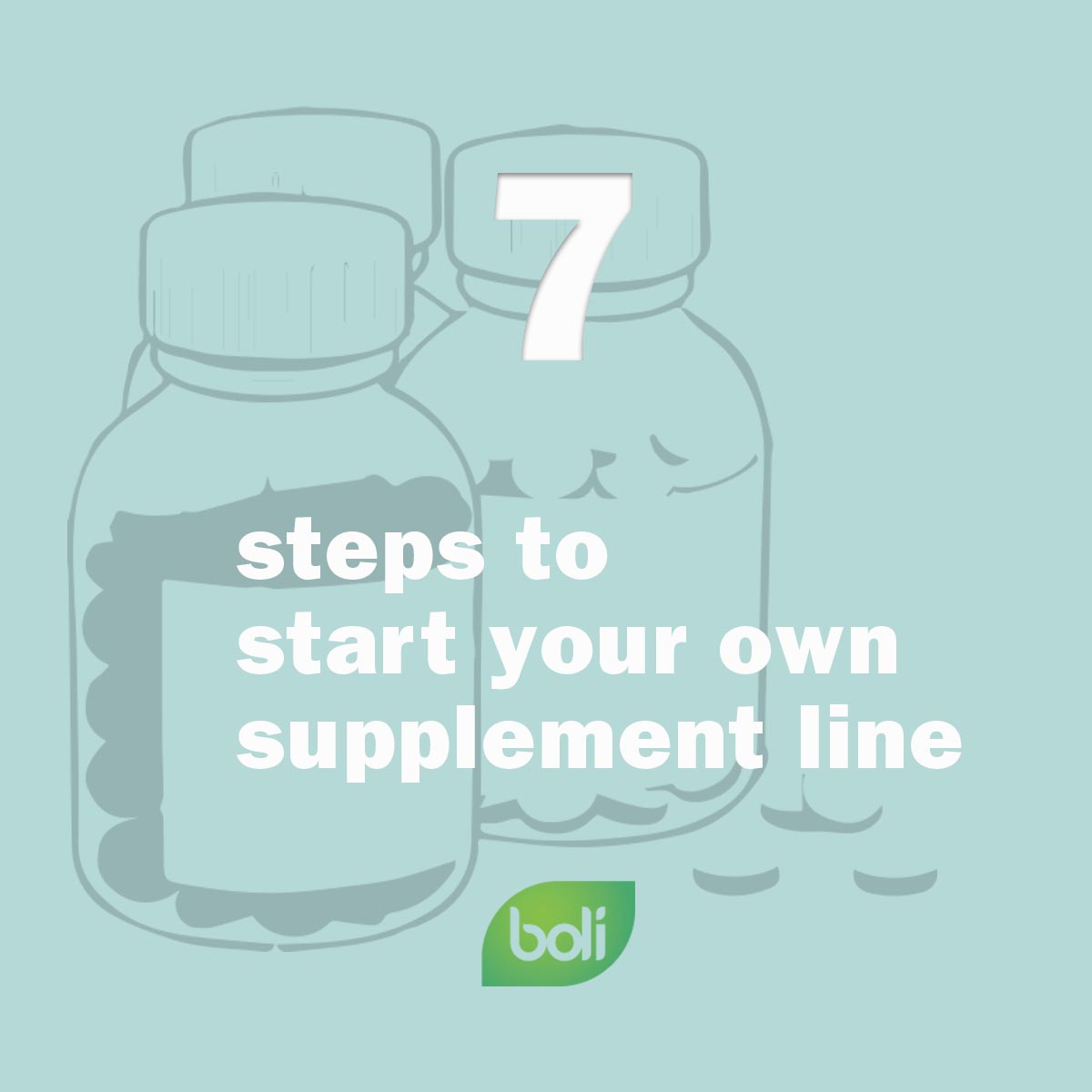 Those that succeed in business, love what they do and fight hard to do what they love.
Fitness coaches, natural health practitioners, chiropractors, athletes, dieticians and nutritionists alike have been drawn to starting their own supplement lines.
The following 7 steps cover some, not all, very important things to consider.
What kind of supplements are important to you?
There are so many options to consider when choosing what kind of product line to develop. Some might be interested female focused products. Others want to explore cognitive and aging health. Whatever your passion is, it is important to specialize. All the large supplement companies have a vast array of products. However, if a smaller company can specialize in their own product category, it makes it easier to compete.
Develop your brand.
What message do you want to convey?
Many companies miss the boat with their generic "We Care" approach. As a consumer, I hope that you care. I also want to know what you are doing to show me you care.
For instance Boli Naturals has their "Her" supplement line. Who is the product for? (Obviously for Her)
They also name their products similar to "Her Happy", "Her Sleep", "Her Cuts", all of which tell you what the product does and who the product is designed around.
Again they show that they care by developing a product just for "Her".
What makes your personality, mantra, characteristics you? Think of your brand as an extension of yourself.
Research shows that the most untapped supplement and fitness markets are the baby boomer, prenatal, and children. At times it takes a different perspective to succeed with your new business.
Find a manufacturer
There are two types of manufacturers.
Contract Manufacturer- Contract manufacturers will develop custom products for your product line. However, they also require large minimum purchases i.e. 6,000 bottles minimum for each formulated product developed.
Private Label Manufacturers- These companies can also be manufacturers, however, they require lower minimums for the products that are already developed and your brand attached. You can find as minimums as low as 50 bottles per in stock product. Of course the higher volume you order, the bigger price break you receive.
Design
Product label design is the first meeting with your consumer. The label needs to reflect your brand. When deciding on your final label design make sure it speaks to you. Also you can survey friends and family (only those that can be honest) to see what they think of the design.
Boli has a fantastic design team that can assist you in the label design. When looking for someone to design your logo, there are low cost options through websites like Fiverr.com.
Fulfillment
Despite if the product you choose to sell is a custom product or in-stock private label product, the manufacturer you choose should have in house fulfillment capabilities. Some private label companies can ship their in-stock product out within 2-3 days. Custom products can be developed and shipped out within 6 weeks, but this is only with the most reputable companies.
Payment Systems
There are many ways to set up your company to take payment. There are services like Shopify that give you a quick online shop and will allow you to take payment.
You can also sign up for Square, which is also a quick way to get approved to take payment. Both Shopify and Square make this step very easy but charge a higher interest rate on your sales.
Finally you can set up a merchant account and gateway. These are often set up through the bank that approves your account, can be tougher to get started, but offer lower interest rate on you credit card sales.
Often smaller entrepreneurs are tempted to sell on Amazon which will manage your online sales, payments, and delivery, however, Amazon has many companies fighting for the same attention.
Launch
Now that you have your product, brand, fulfillment services, website, and payment systems ready, it is time to launch your website or brick and mortar store. (Brick and mortar stores should also have a website, even if it is only for information.) Social media and content marketing are quick inexpensive ways to get your product out there. Clever or witty marketing campaigns stand out , don't rush your creativity.
The road of an entrepreneur can be a difficult one. It is those that develop a solid business plan, do the research, believe in what they are doing and stick it out, are the very people that will succeed.